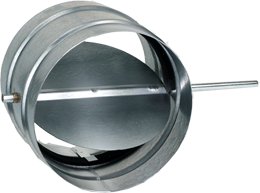 Round Single Blade Aluminum Damper
The model A75 true round damper is manufactured using .080" aluminum. The frame is roll formed with two beads which adds rigidity to the frame and acts as a stop for the attached ductwork. This damper is designed to tightly close when the blade contacts the ¼" neoprene seal that is attahed to the damper frame.
Designed to operate at a maximum differential pressure of 4" w.g.